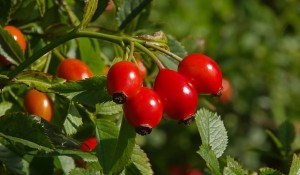 Jesen je prepuna plodova koji su puni vitamina i koje uz malo truda možete sami pripremiti za zimu. Šetnja u prirodi može biti mnogo zanimljivija ako je obogatite skupljanjem jesenjih plodova. Ovakve aktivnosti opuštaju i daju osjećaj zadovoljstva da ste nešto korisno uradili za sebe i svoje najmilije.
Šipak je jedan od tih plodova. Šipak se može koristiti na razne načine, ali ja sam ga ove godine pripremila za čaj, jer stručnjaci kažu da on tako pripremljen u sebi zadži najviše c-vitamina.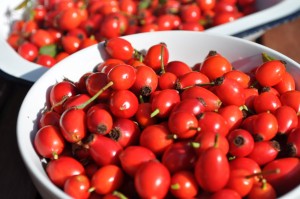 Šipak za čaj se bere dok još nije potpuno zreo i ima svijetlocrvenu boju. Ne smije biti mekan. Ja ga pripremam tako što ga operem, posušim i odrežem vrhove gdje je bio cvijet. Zatim ga sameljem u mašini za orahe, jer što je sitniji to se bolje osuši. Možete ga i sjeckati ali to je malo teže. Neko koristi i mažinu za mljevenje mesa.
Samljeveni šipak raširim u tepsiji na papiru za pečenje i ostavim ga da se suši u rerni na 50 stepeni, sa malo odškrinutom rernom. Ostavite ga da se tako suši oko tri sata. Iključite rernu i ostavite je otvorenu da se šipak dobro ohladi. Osušeni šipak se stvrdne i postane taminiji kad se osuši. Osušeni šipak možete držati u pairnoj vrećici ili u staklenki prekrivenoj platnom tako da šipak ima zraka i da se još dosuši ako treba. Šipak koji nije dovljno suh se može uplesnjiviti.
Nema ništa ljepše nego popiti čaj od šipka sa rumom u hladne zimske dane, a ukus je još bolji kad znate da ste šipak ubrali i pripremili sami.
Nataša 🙂