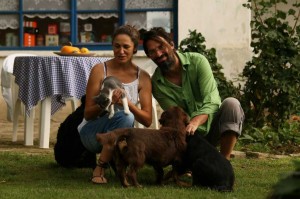 Na selu smo pronašli sebe
Napisao Nenad Blagojević www.pricesadusom.com
Dovoljno je samo da obratite pažnju kako Blaženka (41) i Goran Beronja (40), koji su se pre četiri godine iz Novog Sada preselili u Štrbac, salašarski deo Bezdana, posvećeno i radosno pričaju o svojim ljubimcima, da biste odmah shvatili koliko vole svoju seosku oazu. Njihove životinje naNananinom salašu nazivaju životinjicama: koze su kozice, kokoške – kokice, a krava koju su na početku imali – kravica. Sve one ih hrane mlekom, sirom i jajima, a Beronje su svakoj kozi nadenuli ime.
– Jojo se zove tako jer je, kad je bila mala, skakutala kao jo-jo loptica. Dadanu smo krstili nadimkom moje sestre od tetke Dade, koju mnogo volim. Umesto rođendanskog poklona, obećala sam joj da ću po njoj nazvati prvu kozicu, koja se tada bude rodila. Negodovala je, ali je posle shvatila da su one ipak naše hraniteljice i da ih obožavamo. Od tada stalno pita "šta radi njeno kumče?" – priča Blaženka sa osmehom.
Ovim vrednim supružnicima dan počinje i završava se hranjenjem životinja. Pričaju mi da je život na selu prepun dirljivih momenata, recimo, kad jare ili tele staju na noge, i to su situacije koje ranije nisu mogli da vide u gradu.
– Jojo je bila veoma divlja kad je došla kod nas i nikad nije volela da se mazi. Međutim, kada smo, nakon što se ojarila, obrisali njeno jarence da bi ga podojila, prišla mi je i izlizala celo lice. Sva sam se naježila od sreće. Pregršt divnih trenutaka doživljavamo ovde: kad nam se ne ustaje iz kreveta jer napolju pada kiša, najveća motivacija su njihova radosna lica koja ugledamo kad uđemo u štalu. Goran čak ima jednu koku, koja mu kada ga vidi, skoči u krilo i mazi se kao kuče – govori mi Blaženka o toj neverovatnoj razmeni energije.
O njima su pisali brojni štampani i elektronski mediji. I novinarima i čitaocima zanimljiva je priča o povratku na selo. Pitam ih – zbog čega je danas neobično nešto što je u prošlosti bilo svakodnevica?
– Nama je neobično to što je njima neobično (smeh). Smatramo da je prirodno da ideš iz nezdravog u zdravo, a grad je nezdrava sredina. Ali, ljudima se sistemski govori: "Beži u grad, tamo te čeka sigurnost". To je precenjen komfor – objašnjava Goran.
– Neuporedive su prednosti sela u odnosu na grad. Između ostalog, ovde imate hranu koju sami proizvedete i ne stresirate se. U gradovima ne znate ko vam je prvi komšija, jer se to stalno menja, a ovde imamo divne Bezdance, ne samo do nas, nego i u celom selu – dodaje Blaženka.
Beronjama u sezoni u posetu dolaze domaći i inostrani turisti. Pričaju mi da nakon što posete životinje, odu na livadu kraj kuće. Tu je i stogodišnji ambar u kojem mogu da prilegnu na popodnevnu dremku. Ko se razume u sireve može da proba njihove sa plemenitim plesnima, a u ponudi su muzičke i gastronomske radionice. U avgustu i septembru, u vreme parenja, u salašu se može čuti i rika jelena.
– Blaženka uči turiste kako da zamese hleb i testo, ali i da naprave zimnicu od voća i povrća. Beremo divlje i začinsko bilje, pa pravimo jela po receptima iz knjige Sunčeva trpeza. U muzičkim radionicama otkrivamo da svaki predmet može da bude instrument i da sve zavisi od njihove kreativnosti – kaže Goran.
Ostatak priče možete pročitati na originalnom linku: