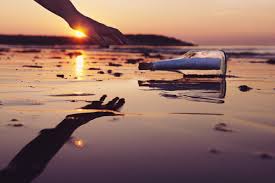 Nekako, igrom slučaja našao si način da se probudiš iz svog dubokog sna. Tada se otvorio tvoj um. Počeo si da istražuješ i otkrio si da je ovaj svijet potpuno drugačiji od priče koju su ti pričali. To je dar, a možda čak i duhovni doživljaj koji pak može da se osjeća kao prokletstvo. Tvoji prijatelji, a možda i tvoja familija ne žele da te slušaju. Zovu te ludakom, ali znaj da u zatvoru zatvorenici kolo vode. Govore ti da nisi u pravu oni koji nisu ni pogledali dokaze koje stavljaš pred njih.
Osjećaš se izolovano i osjećaš teret ovih novih informacija.
Uglavnom ljudi ne žele da sa tobom razgovaraju o tim novim informacijama jer misle da si postao isuviše negativan,  a u suštini su tvoje namjere vrlo pozitivne.
Ne možeš se više vratiti nazad. Ne možeš zaboraviti to novo znanje i osjećaš moralnu dužnost da budeš dio riješenja, ali izgleda da niko ne želi tvoju pomoć.
Napadaju nosioca poruke jer jednostavno ne žele da prihvate da to što govoriš može biti istina. Ne žele da se nose sa posljedicama.
Želim da ti nešto kažem.
Žao mi je što si morao proći kroz sve to.
Žao mi je što su ti kritičko razmišljanje, otvorenost uma, intuicija i hrabrost da se izraziš nanijeli toliko bola.
Žao mi je što je tvoj doživljaj najpribližniji psihološkoj traumi.
Žao mi je što su jednostavni, neupućeni ljudi iskoristili slabu svjetlost i inverziju da tebe prikažu kao ludaka. A njihova verzija normalnog je moja verzija pakla.
Imam osjećaj da znaš o čemu govorim. Iskreno se ponosim što smo upravo tu gdje jesmo.
Dopusti mi da budem prvi koji će ti dati izvinjenje u ime ljudskog roda. Ne zato što sam ja kriv već zato što i to neko mora da uradi.
To nije fer i nije krivljenje nepravde koju ja poznajem. Nadam se da ti frekvencija koju šaljem govori još više od riječi.
Evo trenutne istine.
Ti si hrabar. Ti si moralno ljudsko biće koje ima sposobnost da saosjeća sa drugim ljudima, životinjama i sa samom planetom.
Bez o bzira na tvoju religiju, političko ustrojenje ili nedostatak stava ti slušaš svoju savijest i zahvaljujem ti se na tome.
Žrtvovao si novac, prijateljstva, ljubav, uspijeh i podnio osuđivanje zbog tvoje potrage za istinom u svijetu natopljenom lažima.
Nas ne vodi samo razmišljanje već i osjećanja, a ona su izvor snage a ne slabosti.
Odbijaš da se uklopiš u bilo koju formu da bi ostao slobodna, nezavisna i jedinstvena individua. I ti to jesi. Tvoja moć je uvećana tvojom borbom. Ti si moćan upravo zbog težine ovog iskustva.
Neka bude tako. Ti nisi sam. Ti si u suštini potreban svijetu. Bez obzira na protuargumente ti možeš svojim djelima promijeniti stanje stvari. Pomisli samo na efekat leptira, koji zamahom svojih nježnih krila može da uskovitla moćne vjetrove.
Cijenim što si se prihvatio ovog izazova i lično želim da ti se zahvalim što si doprinjeo borbi protiv nepravde.
Ne, sam nemožeš kontrolisati ishod ove borbe, ali možeš u potpunosti kontrolisati svoj udio u toj borbi. Kada počneš da osjećaš frekvenciju riješenja više nećeš biti na frekvenciji problema.
Zbog toga, koliko god malo da učiniš, veliki si dio te igre.
Ja se oslanjam na sopstvenu intuiciju koja mi govori da će ova poruka na neki način doći do tebe poput poruke u flaši bačene u mračno i uzburkano more.
Vjerujem da osjećaš isto strujanje kao i ja koje zovemo sinhronicitet. Sa tobom sam i to znači da nisi sam.
Geoff Byrd
Prevela: Nataša