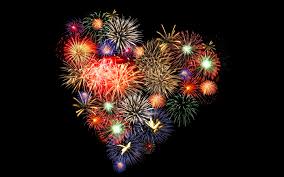 Sretna Nova godina!
Na dan 31. decembra se okupljaju prijatelji i familije da zajedno dočekaju 12 sati kada zvanično završava stara, a počinje Nova kalendarska godina. Čestitamo jedni drugima Novu godinu u nadi da će Nova godina biti bolja i uspješnija od prethodne. Tako gajimo osjećaj da vrijeme ima svoj tok, da je nešto završeno i da nešto novo može da počne.
U knjigama istorije se spominje da slavljenje nove godine potiče još iz stare Meopotamije (2000 g.p.n.e.)  i misli se da je Nova godina tada proslavljana sredinom marta.  Egipćani, Fenićani i Persijci su počinjali novu godinu na dan ravnodnevnice, dok su Grci slavili početak nove godine u vrijeme kratkodnevnice.
Raniji rimski kalendar je novu godinu započinjao u martu. Ovaj stari kalendar je imao samo 10 mjeseci, a prvi mjesec je bio mart. Odatle dolazi i objašnjenje imena mjeseci koja se danas koriste u mnogim jezicima. Septembar koji je sada 9. mjesec je u tom starom rimskom kalendaru bio 7. mjesec  pa do decembra koji je bio deseti mjesec. (latinski nazivi su: septem = 7, octo = 8, novem = 9 i decem = 10)
Istoričari takođe pišu da je prvo slavljenje nove godine na dan 1. Januara bilo u Rimu 153. godine pne. Mjesec januar se tek pojavio 700. godine pne, kada je drugi rimski kralj Numa Pontilius tadašnjem desetomjesečnom kalendaru dodao mjesece januar i februar. Početak godine je pomjeren na januar jer je tada počinjala građanska godina, tj. u tom mjesecu su se birali novi rimski konzuli – najviši činovnici u Rimskoj republici – i tada bi počela njihova jednogodišnja služba.
46. godine pne je Julije Cezar uveo novi kalendar i danas ga poznajemo kao Julijanski kalendar u kome Nova godina počinje 1. Januara.
Crkva je smatrala proslavu Nove godine u srednjevijekovnoj evropi paganskima i nehrišćanskim običajem, te je 567. godine Vijeće Toursa (Council of Tours) ukinulo 1. Januar kao početak nove godine. Nakon toga se u raznim periodima i raznim oblastima srednjevijekovne evrope Nova godina slavila 25. decembra, tj. na dan rođenja Isusa, dok su je neki slavaili 1. marta ili 25. marta u vrijeme uskrsa.
1582. godine je Gregorijanska reforma kelendara vratila 1. Januar kao prvi dan nove godine. Iako su mnoge katoličke zemlje vrlo brzo prihvatile Gregorijanski kalendar, prelazak na Gregorijanski kalendar je trajao mnogo sporije kod protestantskih zemalja, a tek 1919 je Gregorijanski kalendar uveden u službenu upotrebu u staroj Jugoslaviji. Britanci su prihvatili Gregorijanski kalendar tek 1752. godine. Sve do tada se Nova godina u Britanskom carstvu, a i u američkim kolonijama slavila 1. marta.
Običaji slavljenja nove godine su različiti u različitim dijelovima svijeta, kao što se i datumi slavljenja nove godine razlikuju, ali svugjde je ta proslava vrlo bitan dio godine i obilježava se kako familijarno tako i na nivou društva.
Mislim da će 2015. godina biti vrlo zanimljiva godina.
U svijetu se dešavaju vrlo zanimljive stvari. Internet je sve prisutniji u domovima svjetskog stanovništva, što omogućava vrlo lakše i brže informisanje, a i omogućava kontakt sa ljudima koje možda nikada u životu nećemo sresti.
To približavanje ljudi putem interneta je nešto što se prvi put dešava u poznatoj ljudskoj istoriji. Sve više knjiga, tekstova i video materijala je pristupačno na sam dodir dugmeta na kompjuteru ili samim dodirom ekrana. Državni dnevnik uskoro neće biti potreban jer ćete se informisati preko socijalnih medija ili nekim drugim putem.
Koliko god da je svijet interneta privlačan javlja se jedan novi izazov koji nije uopšte mali. Internet nije samo velika svjetska enciklopedija puna raznih informacija. Internet je i veliki supermarket u kome se koriste razne metode da se prodaju stvari, a i ideje i mišljenja. Zato pamet u glavu, što bi rekli stari mudri ljudi.
Zbog toga je 2015 godina, kao i godine koje dolaze bitna, a i veoma zanimljiva, jer sa sobom donosi i utvrđuje novi način komunikacije na svjetskom nivou, koji zahtjeva da se informišemo da bi mogli kritički da se odnosimo prema tom moru informacija koje internet stavlja pred nas.
Želim vam svako dobro u novoj kalendarskoj godini i najviše od svega da vas prate ljubav i zdrav razum!
Živjeli 🙂
Nataša
Izvori:
Europe, A History, Norman Davies, 1997
http://www.infoplease.com/spot/newyearhistory.html
Wikipedia