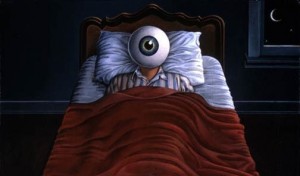 Da li se budite ponoći i očajavate zbog toga? Antropolog i istoričar nudi objašnjenje i moguće rješenje.
Postoje mnogi savjeti da bolje spavamo ponoći ali antropolog i istoričar Roger Ekirich  istražuje jedan mogući razlog zašto mnogi ljudi danas imaju problema da prespavaju noć u komadu. On vjeruje da ljudi nisu uvijek spavali na način na koji to većina radi danas i da je to jedan od razloga što se budimo ponoći.
Ekirich je 2005 objavio knjigu "At Days Close: Night in Times Past" u kojoj je sakupio više od 500 primjera iz literature o ritmu spavanja tokom istorije. Koristio je primjere iz ličnih dnevnika, iz literature, pa čak i isječke iz Homerove "Odiseje", o tome kako su naši pretci spavali.
Istražujući priče o navikama spavanja Ekirich je došao do zaključka da rašireno mišljenje o tome da treba da spavamo otprilike 8 sati u komadu je novijeg datuma. Istraživanjem istorijskih spisa Ekirich je pronašao mnoge opise ritma spavanja ljudi prije vremena industrijalizacije. Ekirich piše da su tada ljudi spavali u dva navrata tokom 12 večernjih i noćnih sati. Prvo spavanje je trajalo otprilike 4 sata, nakon toga je slijedio budni period od par sati prije sljedećeg spavanja od otprilike 6 sati.
Industrijalizacija je sa sobom donijela umjetnu svjetlost, a time produžen dan, drugačije radne prohtjeve, a time i novi ritam spavanja. To je ujedno i značilo manji broj sati za spavanje i odmor. U srednjem vijeku su odrasle osobe spavale iz dva navrata, a u pauzi između dva spavanja bi se bavili stvarima kao što su pričanje, kontemplacija, molitva i seks, piše Ekirich.
Ekirich misli da je buđenje sredinom noći, koje muči mnoge ljude danas, ustvari posljedica nametnutog jednodnevnog ritma spavanja.  Problemi sa buđenjem ponoći se pojavljuju u istorijskim spisima tek u 19. vijeku, kada se i ritam spavanja kod većine počeo mijenjati usljed promjene u načinu života.
Moderni način života nam jednostavno ne dozvoljava da se odmorimo na pravi način. Pogotovo u današnje vrijeme kada sve više sati provodimo uz umjetnu svjetlost i ispred kompjutera, tv-a ili telefona. Kvalitetan san nam je vrlo potreban i problemi sa nespavanjem su ili uzrok ili uzrokuju stress i mnoge druge mentalne i fiziološke probleme.
Ekirich ne vjeruje u ideju da nam je potrebno 8 sati sna u komadu da bi se odmorili i da bi imali dovoljno energije za sljedeći dan, a i da bi bili zdraviji. On naprotiv vjeruje da je prirodnije da odspavamo predveče i kad se probudimo da odradimo nešto opuštajuće nekih par sati i onda da se vratimo u krevet.
Svi oni koji se bude ponoći poznaju osjećaj neugodnosti i panike jer znaju da se ujutro ustaje i da ako ne zaspu, da se neće dovoljno odmoriti itd.  Pošto većina modernog svjeta prema Ekirich-u funkcioniše ovim nametnutim ritmom, mnogi misle da je teško uvesti u život ovaj ritma spavanja u dva navrata. Mnoge kulture i dalje praktikuju odmor i spavanje u podne ili poslijepodne.
Dvofazni ciklus spavanja koji takođe zovemo "Sijesta" nam je u današnje vrijeme najpoznatiji ritam spavanja i u nekim zemljama se praktikuje tako što je i radni dan prilagođen tom ciklusu. Ovakav ciklus spavanja se obično sastoji od jednog kraćeg spavanja tokom dana, koje može da traje od 15 minuta do 1½ sat i od noćnog spavanja od 5-6- sati.
Nova istraživanja iz ove oblasti ukazuju da je ovaj način podjele spavanja zdraviji i da vodi ka više energije, ka boljem raspoloženju i smanjenju stresa. Neka istraživanja čak predlažu da je ovakav način spavanja dobar za mozak. Novo istraživanje sa Kalifornijskog Berkeley Univerziteta ukazje da jedno kratko dnevno spavanje do sat vremena može dramatično poboljšati funkcionisanje vašeg mozga, tj. poboljšati koncentraciju i pamćenje. Link
Nadam se da će vam ovo novo znanje pomoći da manje očajavate što se budite ponoći. Možda vaš sistem jednostavno traži drugačiji ritam spavanja.
Mnogima se spava u rano veče i oni tada ne odspavaju jer misle da će pokvariti noćni san. Problem je u tome što ako zaspemo predveče, treba da napravimo pauzu od par sati uz neku smirujuću i opuštajuću aktivnost i onda na spavanje.
Možete probati i sami i vidjeti šta će se desiti ako ustanete kad se probudite ponoći umjesto da se vratite u krevetu razmišljajući o tome kako ne možete zaspati ili ako u svoju dnevnu rutinu uvedete jedno kratko poslijepodnevno spavanje.
Srdačan pozdrav
Nataša
Literatura i linkovi:
Roger Ekirich, At Days Close: Night in Times Past, 2005
http://www.collective-evolution.com/2013/07/13/alternative-sleep-cycles-7-10-hours-is-not-needed/
http://www.collective-evolution.com/2014/10/02/your-ancestors-didnt-sleep-like-you-are-were-doing-it-wrong/
http://www.medicalnewstoday.com/releases/179882.php
Napisala Nataša