Grlite drveće i bolje ćete se osjećati – i to ne samo zato što ćete sami sebi biti smiješni!
Prije par godina sam prvi put čula za iscjeliteljske moći drveća, ali moj tada još veoma skeptičan um nije mogao da prihvati takve priče. Jedna draga osoba mi je tada ispričala svoju priču. Imala je ozbiljnu povredu šake i konstantne bolove. Tada je pročitala o energetskoj vezanosti drveća za planetu i da bi dodirivanje ili grljenje drveća moglo da joj pomogne. Smijali smo se dok mi je pričala kako bi prijepodne, dok su djeca bila u školi, kretala u potragu za drvetom sa nekom šupljinom u koju bi mogla da stavi svoju bolnu šaku, istovremeno strijepeći da je neko ne vidi u takvoj neobičnoj pozi.
Odrasla žena, majka drži šaku u drvetu i još ga grli nije svakodnevna pojava.
Šalu na stranu, ona je pronašla drvo sa šupljinom i skupila hrabrosti da u nju ugura šaku. Pričala mi je da kad je to uradila zamislila bi kako energija drveta prolazi kroz njenu šaku u njeno tijelo. Osjetila bi trnce u ćitavom tijelu i osjećanje olakšanja. Vjerovali ili ne ona je ubrzo poslije toga prestala da koristi tablete protiv bolova i pokretljivost šake se umnogome poboljšala.
Slušala sam tu priču istovremeno misleći na placebo i moć vjere u ozdravljenje. Tada sam bila ubjeđena da je placebo tu igrao bitnu ulogu, ali istovremeno je to bila još jedna priča koja je doprinjela da počnem da posmatram svijet malo drugačije. Kao kad se prvi put popnete na vrh planine i odjednom ugledate veličanstvenu cjelinu i svoju povezanost sa prirodom.
Energija je svuda oko nas. Mi smo energija. Nikola Tesla se danas često spominje kada se govori o energiji.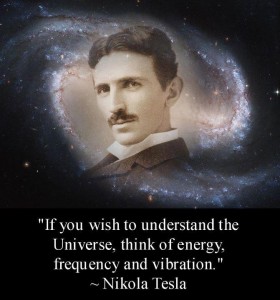 Nikola Tesla je govorio da ako želite da razumijete univerzum trebate prvenstveno da razumijete šta je to energija, frekvencija i vibracija.
Sve je u stanju vibracije. Ništa nije apsolutno statično iako nam se čini da su stvari oko nas čvrste i nepomične. U svijetu elektrona ne postoji mirovanje, a od njih smo sazdani. 
Čak i naučna istraživnja ukazuju na to da je boravak u prirodi dobar za ljudsko zdravlje, da olakšava simptome depresije i stresa. Šetnja u prirodi ili baštovanstvo su jednostavni ali efektivni načini da uradite nešto dobro za svoje zdravlje. Link
Zašto bi to i bilo čudno?
Možda je upravo otuđenost od prirode uzrok mnogih bolesti sa kojima se susreće današnji čovjek. Pogledajte nas samo. Postali smo E-ljudi, konstantno priključeni na razne aparate. Internet je fantastičan izum za ljude koji vole da čitaju i da upoznaju ljudsku istoriju, ali vibracije koje proizvode sve te mašine oko nas možda i nisu u skladu sa prirodnim vibracijama u kojima se mi takođe krećemo.
Fizičar Vinfred Šuman je 50-tih godina prošlog vijeka otkrio da planeta ima svoju frekvenciju od 7,83 Hz i danas je Šumanova rezonanca prihvaćena kao mjera pulsiranja zemlje. Kasnije su i drugi naučnici počeli da istražuju kako ove prirodne frekvencije utiču na ljude. link
Herbert Konig koji je postao Šumanov sledbenik na Univerzitetu u Minhenu, otkrio je i dalje pokazao jasnu vezu između Šumanove rezonance i moždanih ritmova. On je uporedio ljudske EEG snimke sa prirodnim elektromagnetnim poljima životne sredine (1979.) i ustanovio da glavna frekvencija proizvedena od Šumanovih oscilacija je izuzetno blizu frekvencije alfa ritmova.

Istraživanje koje je sproveo E. Jakobi na Univerzitetu u Dizeldorfu pokazalo je da odsustvo Šumanovih talasa stvara mentalne i fizičke probleme zdravlja u ljudskom telu.

Profesor R.Vever iz Instituta Maks Plank za fiziologiju u Erling-Andechs, počeo je studiju u kojoj je izgradio podzemni bunker koji se nalazi van magnetnih polja.

On je tada uzeo studente volontere i stavio ih da žive u bunkeru četiri nedelje, gde su bili hermetički zatvoreni u ovom okruženju. Posle četiri nedelje, profesor Vever je primetio da su se cirkadijalni ritmovi studenta razišli i da su pretrpeli emocionalni stres i migrene.

S obzirom da su oni bili mladi i zdravi, ovo na njih nije ostavilo ozbiljne zdravstvene posledice, što verovatno ne bi bio slučaj sa starijim osobama i osobama slabijeg imunog sistema.

Vever je zatim dodao Šumanovu frekvenciju nazad u njihovo okruženje, a rezultati su bili zapanjujući. Nakon samo kraćeg izlaganja na 7,8 Hz, zdravlje volontera je stabilizovano. link link
Ovakvih istraživanja još uvijek ima premalo da zadovolje naučne skeptike te pitanje i dalje stoji: da li mi zaista vibriramo zajedno sa planetom nekim prirodnim ritmom i šta se dešava sa našim tijelima kada se taj ritam poremeti?
Gore navedena istraživanja nam govore da neka veza postoji i da je funkcionisanje našeg tijela ovisno od tih prirodnih vibracija.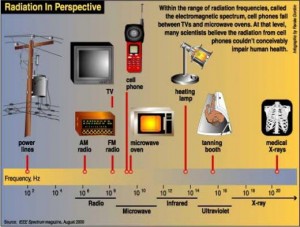 Današnja tehnologija, koja je sa nama tek nekih 100 godina, je omogućila da se konstantno krećemo kroz vještački stvorena elektro-mangnetna polja. Kako to utiče na nas i koje su posljedice našeg tehnološkog napretka ostaje na budućnosti da razotkrije. Umjetnost je pronaći ravnotežu. Tehnologija sa sobom nosi mnoge prednosti, ali odluka je na nama da li ćemo pasivno gledati slike svijeta na ekranu ili ćemo svojim sopstvenim čulima spoznati život i njegove vibracije.
Moje iskustvo mi govori da kada aktivno učestvujemo u svijetu, u životu, kad nismo samo posmatrači, tada mnogo bolje funkcionišemo kako mentalno tako i fizički. A to svako nabolje može otkriti sam, jer samo sopstvenim iskustvom možemo otkriti kakav je to osjećaj biti ljudsko biće (JA) danas. Uradite nešto van svakodnevne rutine i navike i posmatrajte svoje biće i njegovu reakciju. Da li vam se podigao nivo energije tj. osjećaj budnosti?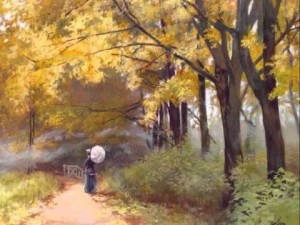 Ako želite da umirite svoja preopterećena i izbombardovana čula otiđite u prirodu, u šumu. Meditacija u prirodi je fantastičan način da primjetite i osjetite smirujući efekat zvukova i mirisa prirode a i da osjetite njenu energiju i vibracije. Šetnja je predivan oblik meditacije pogotovo ako uspijete da svoja čula fokusirate na zvukove i mirise a ne na konstantno brbljanje uma koji sve želi da analizira i prouči.
Zen masteri kažu: Vidi cvijet! I to je sve…
S ljubavlju
Nataša